Two Awards of Excellence for MemoryLifter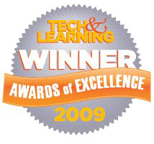 We are proud to announce that MemoryLifterTM 2.2 and MemoryLifterTM for the iPhoneTM and iPod-Touch® have been awarded the 2009 Tech & Learning Award of Excellence – MemoryLifter 2.2 in the category of "Best Upgraded Products" for significant enhancements to our proven educational tool and MemoryLifter for the iPhoneTM and iPod-Touch® in the category "New Products" for ground-breaking innovation.

Tech & Learning's Awards of Excellence program has been recognizing outstanding educational technology products for the last 27 years. With a solid reputation in the industry as a long-standing, high-quality program, the Awards of Excellence recognizes both the "best of the best" and creative new offerings that help educators in the business of teaching, training, and managing with technology. Evaluation criteria include quality and effectiveness, ease of use, creative use of technology, and suitability for use in an educational environment.

Get the latest version of the award-winning freeware MemoryLifter 2.2 and also try the latest beta version. Check out the innovative, new MemoryLifter for the iPhoneTM and iPod-Touch® on the App Store.