Blog
Visit us frequently to get the latest news, developments and Brainy's useful learning tips.


Learn Tips: Vocabulary Learning
1. Chunk Learning
When we speak of chunk learning, we think of two types of memory training.
On the one hand, we can group sequences of information in our daily life. This is especially helpful in short-term retention. Often, we do this automatically when we need to memorize a phone number such as 3566671999. We tend to divide it into chunks like 356-667-1999. This way, instead of remembering ten separate digits, we remember three chunks of numbers.
On the other hand, we can also practice chunk learning when we want to retain information in our long-term memory. In this case, a chunk is a set of elements having strong associations with one another, but weak associations with elements within other chunks.
We tend to learn more efficiently, if we study frequently and for shorter periods of time than if we study infrequently for extended periods of time. Try to study regularly and structure the vocabulary you need to memorize in such a way that all vocabulary words in a chunk are related to a specific topic. Mind maps can help you structure your vocabulary words in this way.
MemoryLifter offers you the possibility to split your learning material into chapters. Furthermore, you could also print out flashcards of one chapter and arrange them into a mind map and create a big poster. You may think that this is tedious work, however, while making the mind map itself you will be learning the words unconsciously or along the way. The time spent will be worth it.
2. Micro Learning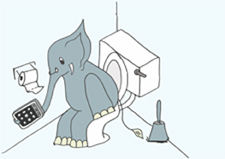 There is a lot of free space in our daily lives: for example, when waiting at the doctor's office. You can review vocabulary while eating breakfast, recite the alphabet while showering or sitting on the toilet, count your steps as you walk between classes, name as many objects as you can in the target language on your to way school, or take your vocabulary flash cards with you on a road trip.

There are many moments during the day when you can squeeze in a few minutes of practice time. Through the repetition of material, it will become part of your everyday life and increasingly familiar, until it eventually becomes an automatic part of your language repertoire.
With the MemoryLifter iPhone application you can learn whenever and wherever you go and you don't need to carry much weight around with you.
Visit our forum to share your personal learning experiences with all MemoryLifter community members or to ask Brainy a specific question regarding learning methods! We are looking forward to meeting you and discussing with you.
Posted by Brainy
Wednesday, 10. June 10.06.09 02:05 in
Brainy