All's Well That Ends Well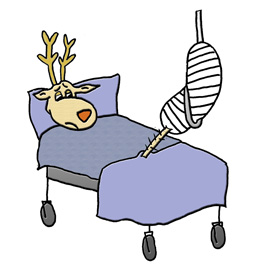 It is almost impossible, even for me, to plan a project down to the last detail. My team and I, we have learned by experience that almost every project requires a certain amount of luck, spontaneity, flexibility and the open-mindedness to learn new things. Although we have a great team with highly skilled reindeers and elves, unexpected things can happen. However, sometimes such problems can result in very enriching intercultural friendships...

Let me tell you about last Christmas: Children all over the world had sent their wish lists very early, so we had enough time to produce the gifts, plan and coordinate the gift delivery. Everything seemed to be perfect. I packed my sleigh with all the presents. My reindeers and I were ready for our journey.

Our first places of delivery were in Europe. From there we traveled all the way to Russia where Dasher, my lead reindeer behind Rudolph, suddenly sprained his ankle. It was impossible to continue our journey without Dasher's pulling force. What to do?

We stopped for a while in Vladivostok, Russia's largest port city situated close to Russia's border with China and North Korea. Fortunately, we met a very helpful captain working at the port who offered to take Dasher on his ship to China and to meet the rest of us in Shanghai where he wanted to introduce us to Ying, a dragon-girl. He said that maybe - if Ying was not too busy with the preparations for the Chinese New Year - she could help us by substituting for Dasher for a while - at least for the deliveries in Asia.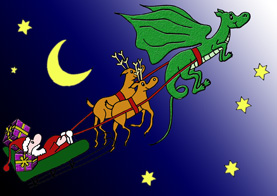 At first we were not sure how to proceed, but then we decided to simply trust the captain. Having arrived in Shanghai we met Ying. The captain, who knew how to speak Chinese, asked her, if she could assist us for a while. Ying was very happy to have a change in her daily routine. The captain had to leave us since he had to travel back to Russia and wished us luck.

However, there was one snag: Nobody in our team knew Chinese (when we receive wish lists from China, our translator elves are responsible for communicating the wishes to us; but unfortunately, we left them at home, the North Pole). We did not know how to tell Ying where to go and how to work with us. After a while of pondering, Comet, one of my most attentive reindeers, had a great idea: He remembered that one child had put the MemoryLifter Multimedia Learning Suite for Chinese Characters and a notebook on her wish list. He suggested that we unwrap the gift temporarily and learn some important characters.

With the help of this study tool we were able to exchange basic information with Ying. She was a wonderful help to us and we managed to deliver all the gifts in Asia on time. After finishing the projects in Asia, we travelled back to Shanghai to pick up Dasher who had recovered in the meantime.

Today we regularly correspond with our friend Ying and invite each other for special occasions.

Having this experience in mind, dear reader, I hope that all your dreams will come true and your wishes will be fulfilled in the next year and that - if something unexpected happens - you won't despond but take the chance to learn something new instead: It will be worth it!


MemoryLifter is available for free. The success of this freeware depends on whether people recommend it to others. Please forward this newsletter or tell a friend.